---
THE GREEN JACKET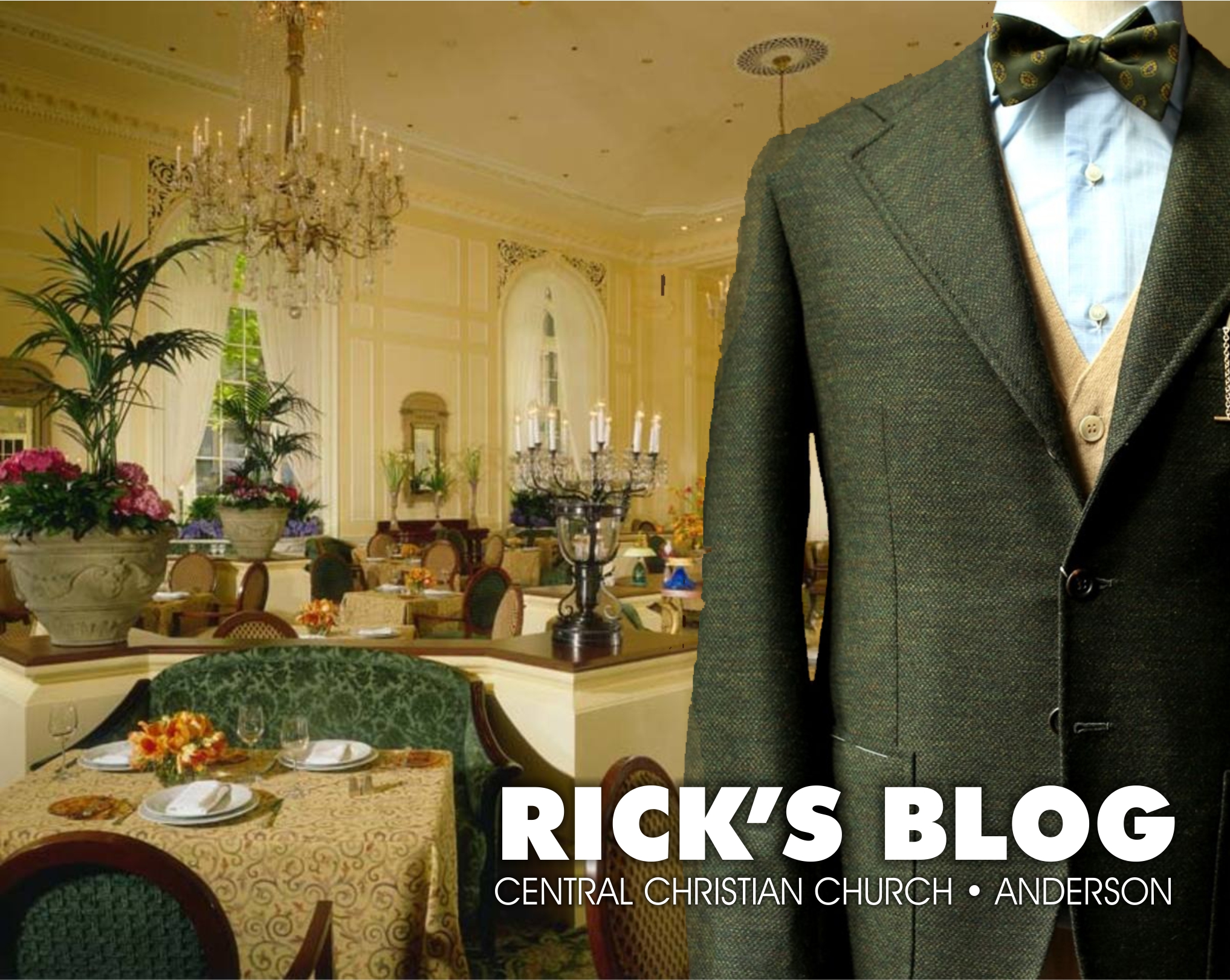 (reprinted from June 2019)
During my college years, in Seattle, I played the piano and sang – somewhat frequently – to try and make a living while going to class.  I had some "regular gigs" (playing for some ballet classes and playing in the Executive Dining Room of the Rainier Tower every week) AND every-once-in-a-while a special party or wedding.  As payment for one event I did at the historic Olympic Four Seasons in downtown Seattle I went a little "above and beyond" and did some extra playing for the hotel itself on a night when I was there to play for a party – the hotel gave me a dinner for two at their famed Georgian Room.
Now keep in mind that I was barely 21, had only really experienced anything as elegant and elite as The Georgian Room because I was a sometime performer in places like that, meaning: I entered through the back door or kitchen, did my gig and left the same way – not mingling with the guests NOR eating the food NOR drinking the wine.  So this free dinner was not only going to be a new adventure, but also something that otherwise would've cost me the monetary equivalent of tuition for one semester at my school; a little out of my range.
I asked a girl friend (as opposed to a girlfriend) to join me.  She eagerly agreed.  She was a performer/student herself and shared the same world as I; dining mostly on ramen noodles, pizza, popcorn, etc.  This was going to be spectacular…we didn't eat for two days, in preparation.
I picked her up and, being a girl, she looked perfect for the occasion; chic, but not TOO dressy.  I wore my best white button-down, nice linen khakis, freshly-shined brown oxfords…plus (did I say I was younger) I didn't need AS MUCH HELP looking good as I do now.  I imagined we would turn heads as we, much like Eliza Doolittle at the ball, walked into the Georgian Room.
I admit, I had some expectations (based mostly on the movies and television shows I watched) about what I would experience in such a fancy place; snooty staff, food names I couldn't pronounce, a lot of "raw" things I wouldn't want in my stomach…etc.  But the one thing I wasn't expecting happened at the door to the restaurant when I said we had reservations.
The Maitre d', (and he really was THE perfect definition of a gentleman) smiled and asked if I had a jacket, since jackets were required in the room.  I had never heard of such a thing.  Shocked, embarrassed and thinking of some extravagant story I could tell about my jacket being stolen right outside as I saved myself and my date from certain death just before entering the restaurant…mostly I remember no response, except "I'm sorry, I didn't know."
The Maitre 'd gave me a sincere and truly reassuring smile and said not to worry, several gentleman who dined there regularly kept jackets in the cloak room just off the Maitre d's station.  He sized me up and brought out a green jacket which he helped me slip on.  First, it was perhaps the most comfortable jacket I'd ever worn…perfect fit, and whatever the cut and fabric were I now judge every jacket I've worn since by that one.  Second, from that time on we never were treated by him or the staff as if we didn't belong in that place and time.
Although the jacket wasn't mine, it fit better than anything I one at the time, and I felt oddly comfortable as we were seated by a large beautiful window, under a chandelier.  Our server couldn't have been more engaging, welcoming and helpful…pointing out some things we would really like and encouraging us to try some new things…since our dinner was "on the house".  It was that "night of the green jacket" that I found out crudité just means "raw veggies" and vichyssoise is just cold potato soup…among other things.
By the end of the evening we were laughing, comfortable, surprised, satisfied, …and filled with memories that I still have some 40 years later…I'm assuming it was probably less memorable for my "date", but who knows?
When we left, the Maitre d, after asking how our evening was, removed my jacket and asked my name.  I told him, he took out a form and found a number on the page that corresponded with a discreetly-placed number sewn in the inside of the jacket, and wrote my name beside it – under the other few names beside that number.
"There", he said, "when you return, your jacket will be here."
I learned some things that night, as my Father (in His undeniably supernatural AND natural way) taught me not to make assumptions about anyone or anything, that trying new things (like new foods and new destinations) stretches and invigorates the mind and body.  He taught me that some people have a gift of making others feel good about themselves, and I wanted to find out how to cultivate that gift.
But most of what I learned had to do with "putting on" something I didn't think of as "mine" and learning that most often, we don't see ourselves as others see us, we don't imagine that some experiences, gifts, blessings, are for us…when, in fact, they fit us perfectly.
I know that's true with Gifts of the Spirit.  I know that it is much easier to see another person's giftedness than our own.  That's why I've always thought "Spiritual Gift Assessment" tests should not be taken by the person trying to discover their own gifts but by someone else, who knows them well. I know that some people would never see themselves in a certain "jacket" because it is so out of their usual or out of their self-defined comfort zone…only then to have a friend, mentor, or someone they love, tell them the "jacket" truly fits…they should wear it, even if only for a short time and place.
The lessons of THE GREEN JACKET have stayed with me.  There are times  I've found myself in a place or time where I'm sure I don't fit…then, remarkably, comfortingly, someone speaks with the inspiration of the Spirit and says, "Why don't you just try it on."
The "green jacket" may represent a change in life, a place in your congregation or family, or what some call a "special anointing" for a specific time or place.  Whatever your jacket is, I say to you: "Why don't you just try it on."
You may be surprised what God has tailored for you.