COMMUNION PACKETS are available in the back, beside the OFFERING/BLUE CARD BASKET.
The COMMUNION BREAD in the bowl by the Pulpit is "GLUTEN FREE".
— THE GATHERING —
PRELUDE • Mike Meadows
MORNING HAS BROKEN (E. Farjeon)
WELCOME & CALL TO WORSHIP (from PSALM 29) • Pastor Rick Vale
PASTOR: Ascribe to Yahweh, you heavenly beings,
Ascribe to the LORD glory and strength.
Ascribe to Yahweh the glory due His name;
Worship Yahweh in the splendor of His holiness.
PEOPLE: The voice of the LORD is above the waters.
The voice of the LORD breaks the cedars;
The voice of the LORD flashes flames of fire.
In His temple all cry, "Glory!"
PASTOR: The LORD sat enthroned at the flood;
The LORD sits enthroned, King forever.
PEOPLE: The LORD gives His people strength
The LORD blesses His people with peace.
*SONG • 5 O FOR A THOUSAND TONGUES TO SING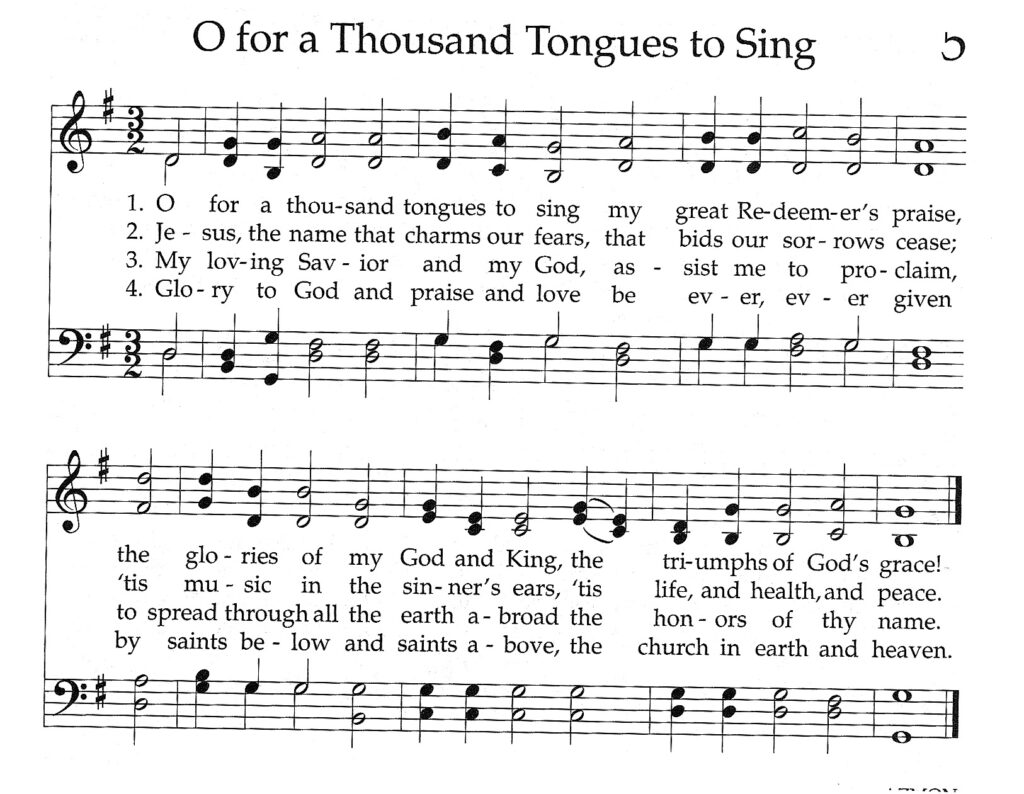 *INVOCATION & RESPONSE
Glory be to the Father, and to the Son, and to the Holy Ghost.
As it was in the beginning is now and ever shall be
World without end. Amen, amen.
GLORIA PATRI, 3rd Century • Charles Meineke
— THE LESSON —
SONG • John Huntoon, trombone
HE LEADETH ME (W. Bradbury)

THE FIRST READING • Judy Dick, Elder
ISAIAH 9:2-6
The people walking in darkness have seen a great light; a light has dawned on those living in the land of darkness. You have enlarged the nation and increased its joy. The people have rejoiced before You as they rejoice at harvest time and as they rejoice when dividing spoils. For You have shattered their oppressive yoke and the rod on their shoulders, the staff of their oppressor, just as You did on the day of Midian. For the trampling boot of battle and the bloodied garments of war will be burned as fuel for the fire. For a child will be born for us, a son will be given to us, and the government will be on His shoulders. He will be named Wonderful Counselor, Mighty God, Eternal Father, Prince of Peace.
READING & LESSON • Pastor Rick
JOHN 14:23-3 • THE FRUIT OF THE SPIRIT: PEACE
"If anyone loves Me, he will keep My word. My Father will love him, and We will come to him and make Our home with him. The one who doesn't love Me will not keep My words. The word that you hear is not Mine but is from the Father who sent Me. "I have spoken these things to you while I remain with you. But the Counselor, the Holy Spirit — the Father will send Him in My name — will teach you all things and remind you of everything I have told you. "Peace I leave with you. My peace I give to you. I do not give to you as the world gives. Your heart must not be troubled or fearful. You have heard Me tell you, 'I am going away and I am coming to you. ' If you loved Me, you would have rejoiced that I am going to the Father, because the Father is greater than I. I have told you now before it happens so that when it does happen you may believe. I will not talk with you much longer, because the ruler of the world is coming. He has no power over Me. On the contrary, I am going away so that the world may know that I love the Father. Just as the Father commanded Me, so I do.
CONGREGATIONAL PRAYER
The TIME OF PRAYER will end with the reciting of THE LORD'S PRAYER together.
Our Father, which art in heaven; Hallowed be Thy name,
Thy Kingdom come, Thy will be done, on earth as it is in heaven.
Give us this day our daily bread,
And forgive us our debts, as we forgive our debtors.
And lead us not into temptation but deliver us from evil,
For Thine is the Kingdom, the power & the glory forever. Amen.
— AT THE TABLE —
SONG • 321 BREAK THOU THE BREAD OF LIFE (Vs 1 & 2)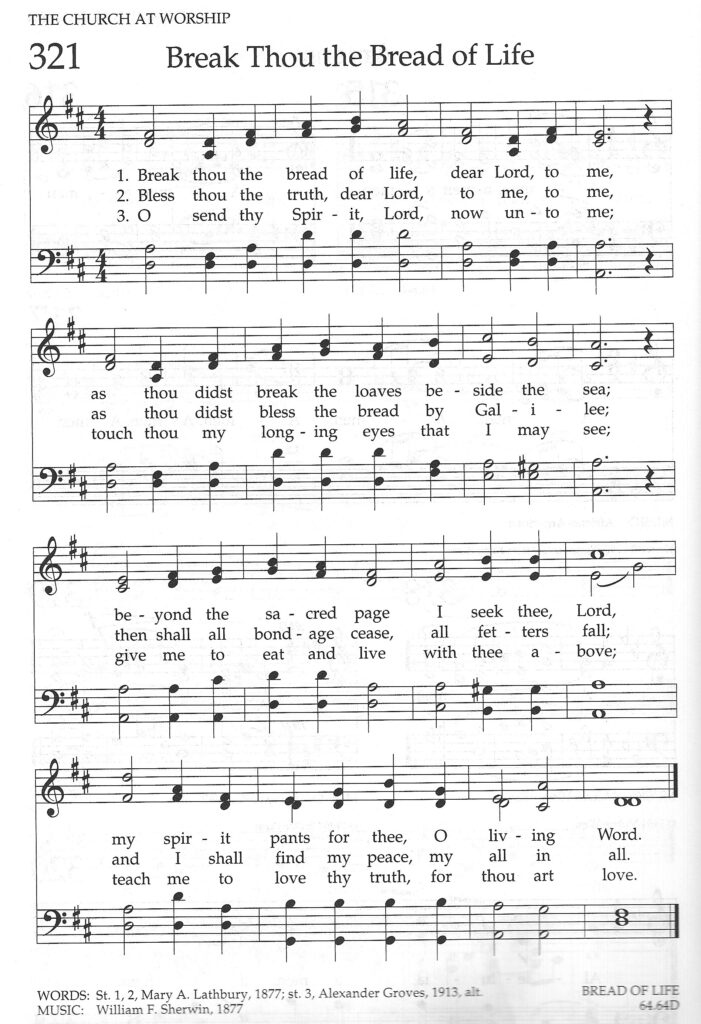 INVITATION TO THE TABLE
COMMUNION PRAYER • Cito Wyatt, Elder
"WORDS OF INSTITUTION" • COMMUNION
All believers in Christ are welcome at the table. You are welcome to either stay in your pew and receive COMMUNION or come up (by the side aisles).
— THE BENEDICTION —
Our worship ENDS as our service BEGINS.
*SONG • THE DOXOLOGY
Praise God from Whom all blessings flow.
Praise Him, all creatures here below.
Praise Him above, ye heavenly host.
Praise Father, Son, & Holy Ghost. Amen
Thomas Ken • Louis Bourgeois
*BENEDICTION
POSTLUDE • Mike Meadows
GO IN PEACE (K.E. White)
Please join us in SIMS PARLOR for some coffee and refreshments, following worship, hosted by Jeff & Susan Akers.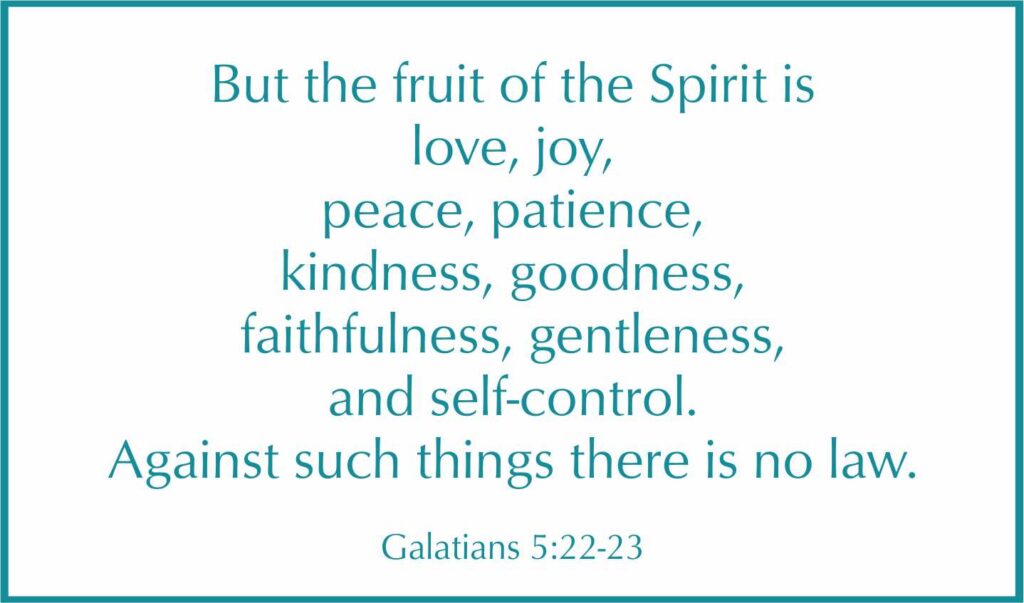 ---

CHURCH FAMILY BIRTHDAYS
Cindy Pugsley…September 1 • Jim Benefiel…September 6
Charlie High…September 6 • Norma Newcomer…September 14
Bev Foy…September 24 • Nancy Melton…September 26
John Schieve…September 26 • Nancy Kalisz…September 30

EVENTS generated from the Church Calendar on the CCC Website
"NCE" = "Non Church Event" | "OS" = Off Site Event
SUNDAY • September 24th
8:30am: Choir Rehearsal
10:00am: Worship
11:20am: Fellowship Time
7:00pm: NA (NCE)
MONDAY • September 25th
No Calendar Events
TUESDAY • September 26th
The Church Office is Open.
9:00am: Women's Bible Study
WEDNESDAY • September 27th
6:00pm: Handbell Rehearsal
THURSDAY • September 28th
Noon: THE LUNCH BUNCH
8:00pm: NA (NCE)
FRIDAY • September 29th
Noon: NA (NCE)
SATURDAY • September 30th
2:00pm-5:00pm: General Auditions
for The Alley Theatre
SUNDAY • October 1st
WORLD-WIDE COMMUNION SUNDAY
8:30am: Choir Rehearsal
10:00am: Worship
11:30am: Fellowship Time
2:00pm-5:00pm: General Auditions
for The Alley Theatre
7:00pm: NA (NCE)
SERVING NEXT SUNDAY • OCTOBER 1st
ELDERS
Sarah Sheler (S)
Pam Mullen (N)
HEAD GREETER
Lynn High
DOORGREETERS
Nancy Kalisz (Jackson)
Norma Newcomer (10th)
Jim Millikan (Elevator)
DEACONS
—
—
SOUND ENGINEER
Paul Cunningham
COFFEE HOUR HOST
Becky Atkinson &
Jeane Atkinson
OCTOBER FOOD PANTRY
Susan McDuffee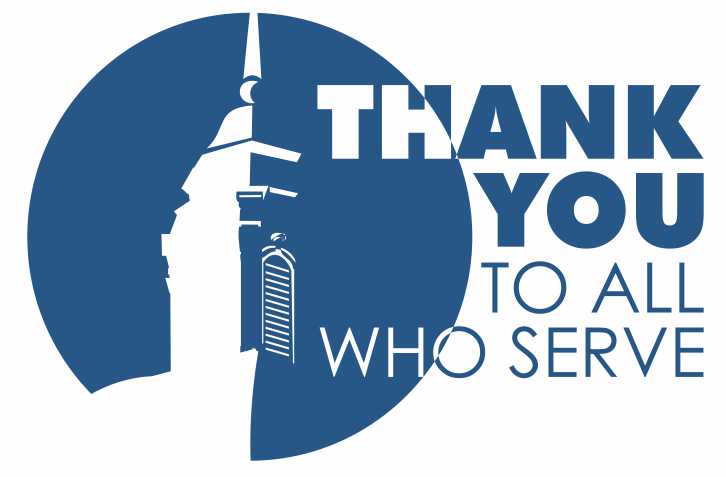 ---

Contact THE CHURCH OFFICE (765.643.0701) with your requests. Names should be submitted ONLY with approval from that person. Confidential requests are treated as such by CCC's Staff and Prayer Groups. The PRAYER LIST FOR OUR FRIENDS is cleared at the beginning of every month. If you would like a request to remain, please request it again on your BLUE CARD.
THIS MONTH we pray for: CCC ELDERS
THIS WEEK we pray for: MAIN STREET CHURCH of GOD
Prayers for OUR CHURCH FAMILY
Cindy Allison
Mike Allison
Joan Allison
Jamie Armstrong
Don Bancroft
Bobbie Beaty
Jim Benefiel
Vera Benefiel
Kathleen Cookman
Marsha Dunkin
JoAnne Hadlow
Elva Mae Hamilton
Emerson Harper
Bill & Susan Herbig
Jack Hiatt
Sally Hudson
Barbara Jones
Jack Kyhnell
Sheila Love
Don Lynch
Thom & Teresa McDonnell
Donna McFadden
Marian McLaughlin
Nancy Melton
Lois Melzer
Connie Millikan
Libby Munshaur
Jerry & Nancy Pitcock
Andrea Presser
John Robinson
Carole Strock
Linda Turner
LaBella Wallace
David Whicker
Peggy Zion
Prayers for OUR FRIENDS
David Allison | Req. by Joan Allison
Greg Blackwell | Req. by Phyllis Dodd
Josie Condon | Req. by Judy Wood
Connie | Req. by Sharon Wolfe
Roger Creason | Req. by John & Luanna Robinson
Ted & Kay Deal | Req. by Mike McCarty & Pam Mullen
Debbie | Req. by Karl & Sara Keller
Denise | Req. by Sharon Wolfe
Carolyn DeVaney | Req. by Phil DeVaney
Ronnie Douglas, Jr. | Req. by John & Luanna Robinson
Renee Dunham | Req. by John & Luanna Robinson
Gabriel | Req. by Joan Allison
John Gilson | Req. by Becky Atkinson
Barb Glaze | Req. by Phil DeVaney
Cindy Haverstick | Req. by Christie Huff
Greg Huey & Family | Req. by Jeff & Susan Akers
Ann Marie Humphrey | Anonymous
Jama Jameson | Req. by John & Luanna Robinson
Trent Jarvis | Req. by Sharon Wolfe
JD | Anonymous Request
Araia Mullins Jones | Req. by Connie Millikan
Scott Keller | Req. by Karl & Sara Keller
Joe Kinsey | Req. by Margaret Combs
Marci Knorek | Req. by John & Luanna Robinson
Nanciann Kobler | Req. by Kevin & TR Weston
Ann Larimore | Req. by John & Luanna Robinson
The Lee Family| Req. by Steve & Linda Horn
Maci & Joshua| Req. by John & Luanna Robinson
Madi & Marli | Req. by John & Luanna Robinson
Marcy Marshel | Req. by Joe & Susan McDuffee
Marvin | Anonymous
Marsha McCool | Req. by Charlie & Lynn High
Bud Miles | Req. by John & Diana Huntoon
Karen Correll Miller | Req. by Charlie & Lynn High
Ann Newbold | Req. by Christie Huff
Brad Ormes | Req. by Sharon Wolfe
Remington Pardini | Req. by Phyllis Dodd
Kyle Parks | Req. by John & Luanna Robinson
Family of Paul Porcaro| Req. by Lyle & Cindy Crouse
Chris R. | Req. by Kevin & Donna Hawes
Mike Raymer | Req. by Sharon Wolfe
Brenda Rector | Req. by John & Luanna Robinson
Steve Rector | Req. by John & Luanna Robinson
Jeff Riggins | Req. by Joe & Susan McDuffee
John Robinson II | Req. by John & Luanna Robinson
Family of Cheryl Sikes | Req. by Christie Huff
Drew St. Clair | Req. by Billie St. Clair
Dempsey Sturgill | Req. by Christie Huff
Donny W. | Req. by Steve & Linda Horn
Debbie Wertz | Req. by Ed & Margaret Combs
Tisha Williams | Req. by Charlie & Lynn High
Kay Winter | Req. by Pastor Rick & Soroptimist Sisters
---
Central's LUNCH BUNCH will meet Thursday, September 28th at noon.
See Lynn & Charlie High for details…WE HOPE TO SEE YOU THERE in the Fellowship Hall!
---

Dear Church Family,
Thank you so very much for all the prayers, cards, visits, and texts during my hospital stay and as I continue to improve at home. Your prayers and love sustained me and my family while I was hospitalized and continue to sustain me while at home. I appreciate each and every one of you. Because of your prayers, God's love, my family team of advocates, doctors, and nurses, I am healing. Blessings to all of you.
Love, Connie Millikan
---

PASTOR RICK'S BIBLE STUDY
Discussions about LIFE, DEATH, HEAVEN and HELL will be the focus of this 3-week series.
Pastor Rick will share what science, philosophy, the Church, and the Scripture have historically taught – and what his own thoughts are. Join us in Schuster Chapel at 11:00am on Thursdays October 5th, 12th, & 19th.
We hope to see you there!
---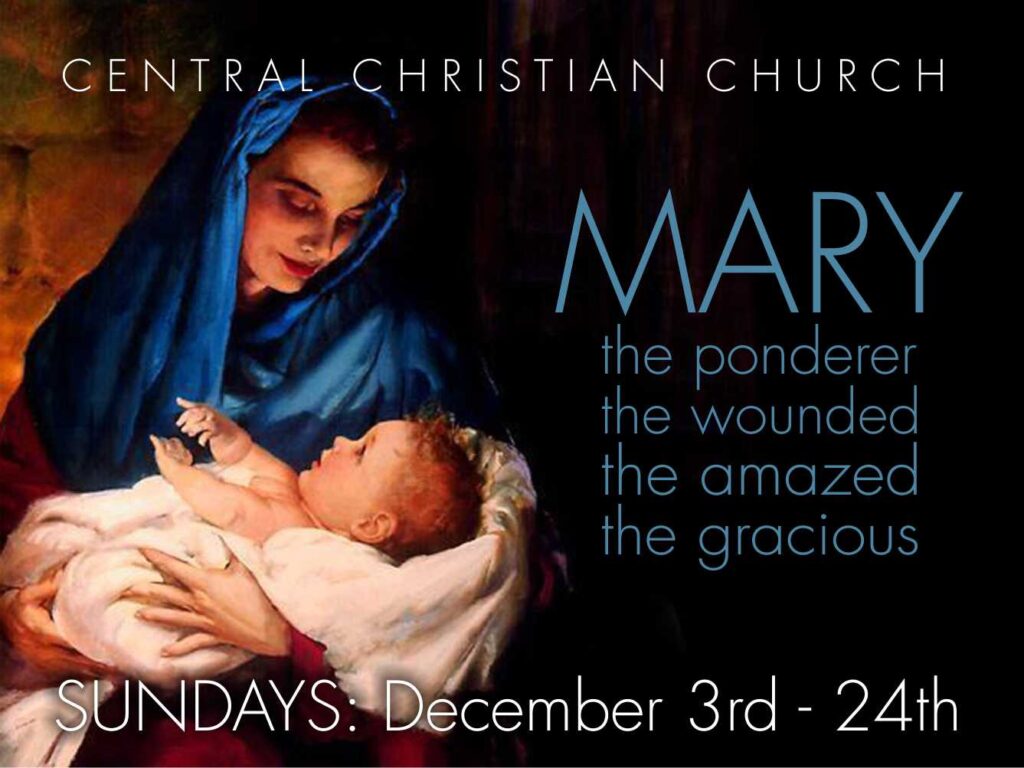 ---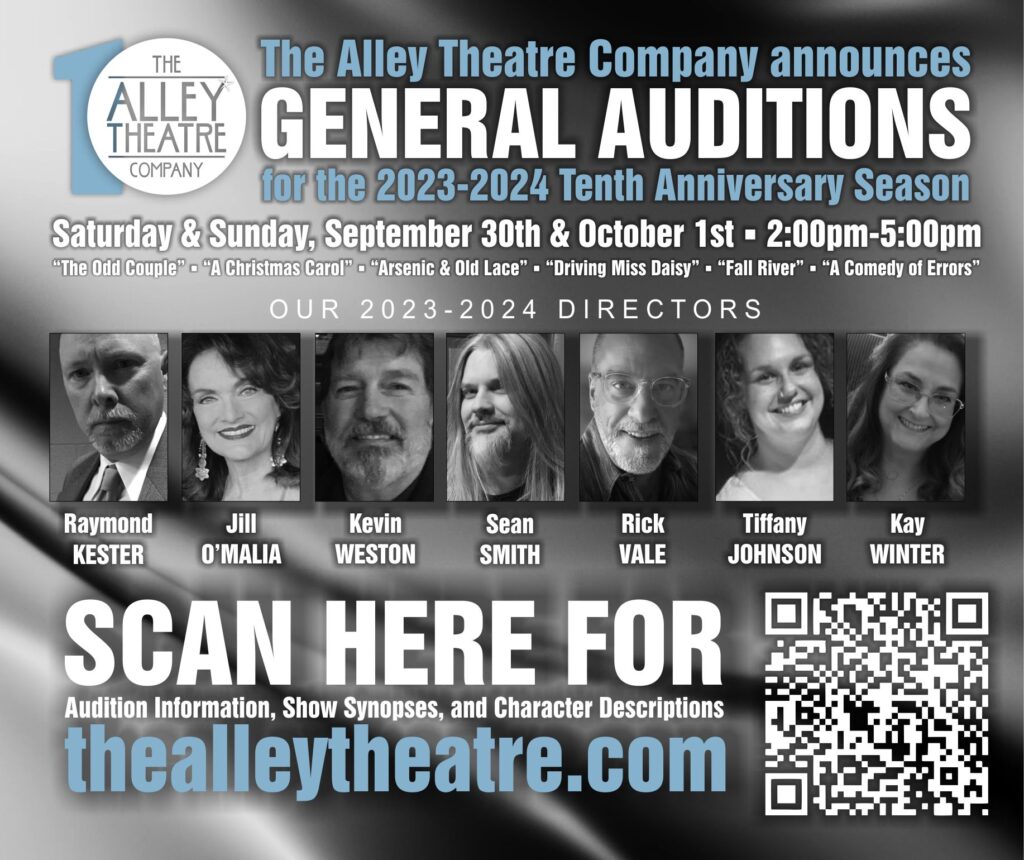 DO YOU, or someone you know, have the itch to be on stage with THE ALLEY THEATRE?
General Auditions for every show will be held September 30th & October 1st.
Roles are available for Elementary School Ages THROUGH Senior Adult (and everything in between), all genders, experience levels, & ethnicities.
THE ALLEY will be casting roles in the following shows:
"THE ODD COUPLE" – Playing November 9, 10, 11, 13, 2023
"A CHRISTMAS CAROL" – Playing December 13, 14, 15, 16, 17, 2023
"ARSENIC & OLD LACE" – Playing January 18, 19, 20, 21, 2024
"DRIVING MISS DAISY" – Playing February 15, 16, 17, 18, 2024
"FALL RIVER" – Playing March 21, 22, 23, 24, 2024
"A COMEDY OF ERRORS" – Playing August 9, 10, 11, 2024
Actors are asked to prepare BOTH a Comic Monologue & Dramatic Monologue – those auditioning for "A CHRISTMAS CAROL" and/or "FALL RIVER" please prepare 16 measures of song that shows your tone, volume, and range.
Video Auditions are welcome, and must be received at thealleytheatremail@gmail.com by 5:00pm October 1st.
Please pass on this information to anyone you know who might be interested – thank you!
---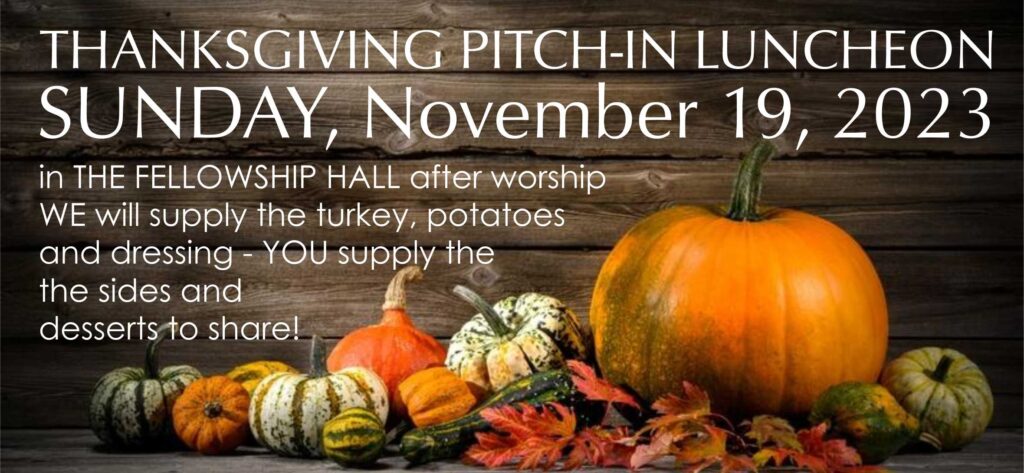 ---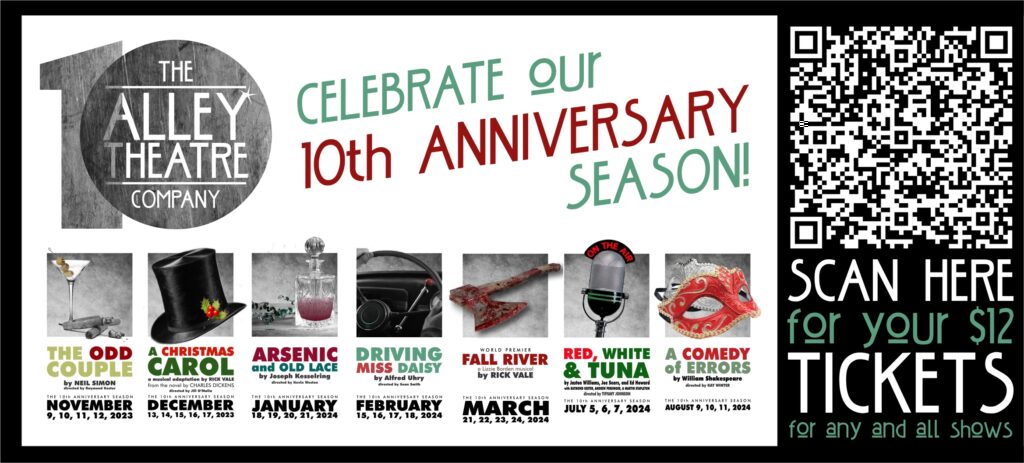 Tickets are on sale, now, for every show in the 10TH ANNIVERSARY SEASON of THE ALLEY THEATRE: a part of Central Christian Church, and housed in the JAKE HOOVER THEATRE downstairs, on the alley off Jackson Street.
This year's lineup includes some classics and favorites – from the Neil Simon comedy, "THE ODD COUPLE" (which was the very first show we performed in the theatre) to Rick Vale's adaptation of "A CHRISTMAS CAROL" (6 performances this year), the classic dark comedy, "ARSENIC & OLD LACE" (directed by our own Kevin Weston), the intimate, comic, and moving, "DRIVING MISS DAISY", and a world premiere to celebrate our 10th Anniversary: "FALL RIVER" – an original dark musical based on the trial of Lizzie Borden in 1892. That performance will be in the ANDERSON MUSEUM OF ART.
Two "extra" summer shows (not a part of the regular season) include the third in the "TUNA" series: "RED, WHITE, AND TUNA" which will be over the Independence Day weekend….and then the short, Shakespeare classic, "A COMEDY OF ERRORS".
Please join us for one or all! Tickets are $12 per seat, per show, and can be purchased on the theatre website: www.thealleytheatre.com. If you have any trouble purchasing tickets online, simply call and leave a message (with your name and phone number, please) at 765.643.0701.
As is the case with every season, all income from ticket sales are donated to the Central Christian Church general fund.
---

This year, 2023, CENTRAL CHRISTIAN CHURCH celebrates her 165th Anniversary. It was on December 1, 1858 that the congregation of "FIRST CHRISTIAN CHURCH" (as it was known at the time) was chartered in "Andersontown" (as the TOWN was known at the time).
We will celebrate on our Anniversary, December 1, 2023, with a gala dinner at THE ANDERSON COUNTRY CLUB.
Save the date, it will be a ticketed event, but we want everyone to be able to attend who wants to attend…more details will follow!
---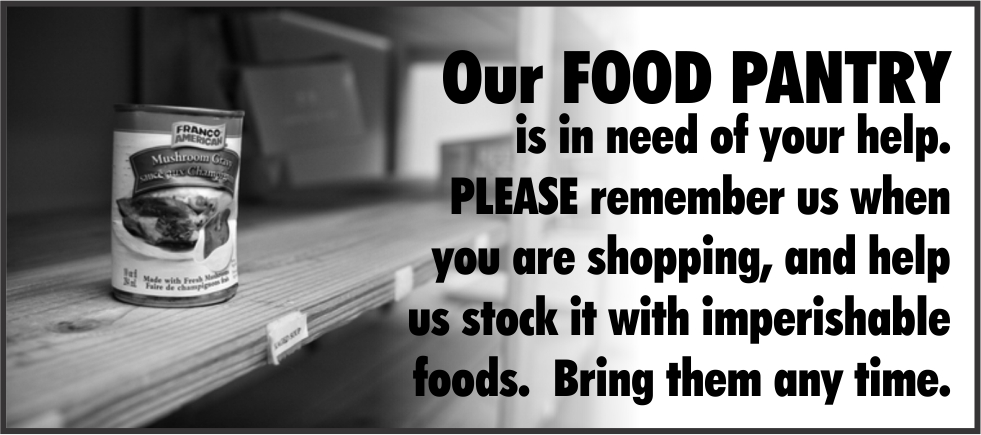 ---