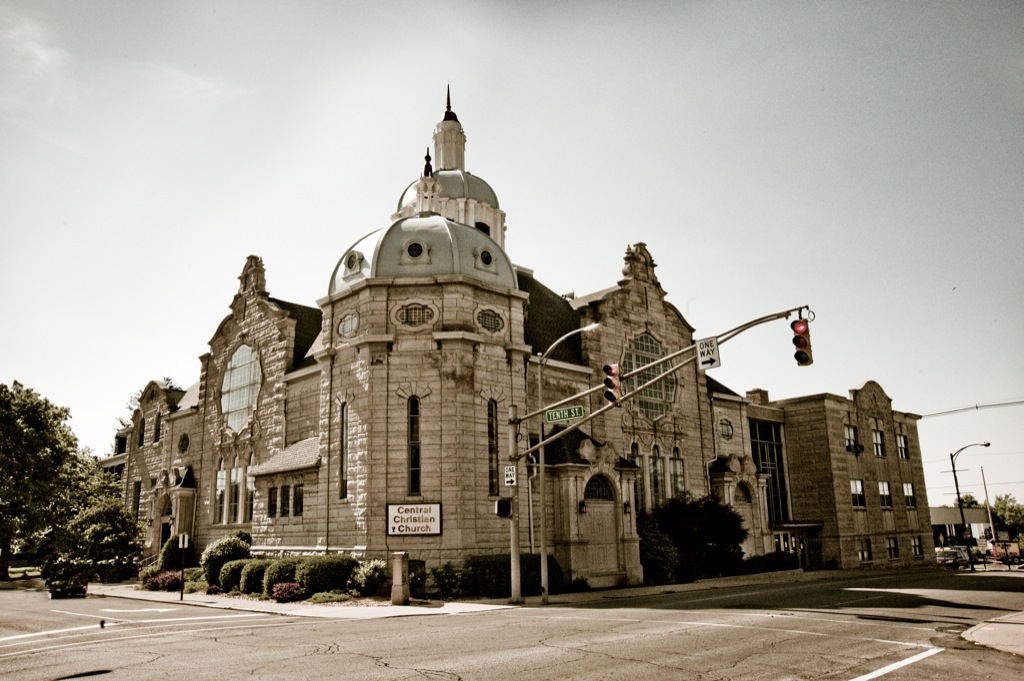 CENTRAL CHRISTIAN CHURCH
923 Jackson Street | Anderson, IN 46011
765.643.6957 | www.central-christian-church.com
The Church Office is open
TUESDAYS – 9:00am-5:00pm
CHURCH STAFF
Rick Vale
Pastor
 •
John Huntoon
Director of Music
 •
Kathleen Wile
Director of Finance
 •
Nancy Pitcock
Congregational Care
 •
Mike Romack
Congregational Care
 •
Joshua Wilkinson
THE ALLEY THEATRE
Box Office Administrator
_______
Mike Romack, Church Board Chair
Donna Hawes, Church Board Vice-Chair
Carlynn Malone, Church Board Secretary
DECEMBER BIRTHDAYS
in THE CONGREGATION
Gary Schuster Sr. ..Dec 4
Monica Meadows…Dec 7
Judy Dick…Dec 8
Patty Glaze…Dec 8
Bill Presser…Dec 8
Peggy Zion…Dec 9
Mike Romack…Dec 10
Elva Mae Hamilton…Dec 12
Dan Foy …Dec 13
Erik Johnsen …Dec 15
Cindy Silvey …Dec 16
Lynn High …Dec 17
Carlynn Malone…Dec 20
Nancy Cunningham…Dec 21
Ralph Sipes…Dec 25
Phil Devaney…Dec 30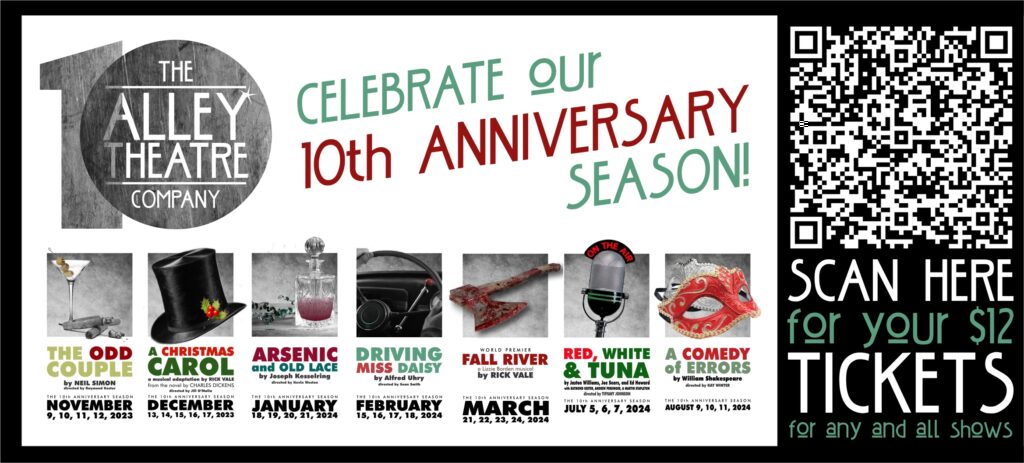 Tickets are on sale, now, for every show in the 10TH ANNIVERSARY SEASON of THE ALLEY THEATRE: a part of Central Christian Church, and housed in the JAKE HOOVER THEATRE downstairs, on the alley off Jackson Street.
This year's line up includes some classics and favorites – from the Neil Simon comedy, "THE ODD COUPLE" (which was the very first show we performed in the theatre) to Rick Vale's adaptation of "A CHRISTMAS CAROL" (6 performances this year), the classic dark comedy, "ARSENIC & OLD LACE" (directed by our own Kevin Weston), the intimate, comic, and moving, "DRIVING MISS DAISY", and a world premiere to celebrate our 10th Anniversary: "FALL RIVER" – an original dark musical based on the trial of Lizzie Borden in 1892. That performance will be in the ANDERSON MUSEUM OF ART.
Two "extra" summer shows (not a part of the regular season) include the third in the "TUNA" series: "RED, WHITE, AND TUNA" which will be over the Independence Day weekend….and then the short, Shakespeare classic, "A COMEDY OF ERRORS".
Please join us for one or all! Tickets are $12 per seat, per show, and can be purchased on the theatre website: www.thealleytheatre.com. If you have any trouble purchasing tickets online, simply call and leave a message (with your name and phone number, please) at 765.643.0701.
As is the case with every season, all income from ticket sales are donated to the Central Christian Church general fund.

IT'S A CAROLING PARTY!
WEDNESDAY, DECEMBER 6TH at 6:30pm – The CHANCEL CHOIR invites YOU to join them as they carol to some of our folks in local Retirement Communities (3 indoor locations).
The CHOIR and CAROLERS will meet at CENTRAL CHRISTIAN CHURCH at 6:30pm to get caroling books, and then travel "in caravan" to each place, ending up at the home of JERRY & NANCY PITCOCK for some Christmas desserts!
If you would like to join in, PLEASE LET JOHN HUNTOON KNOW AHEAD OF TIME, so that he can plan accordingly.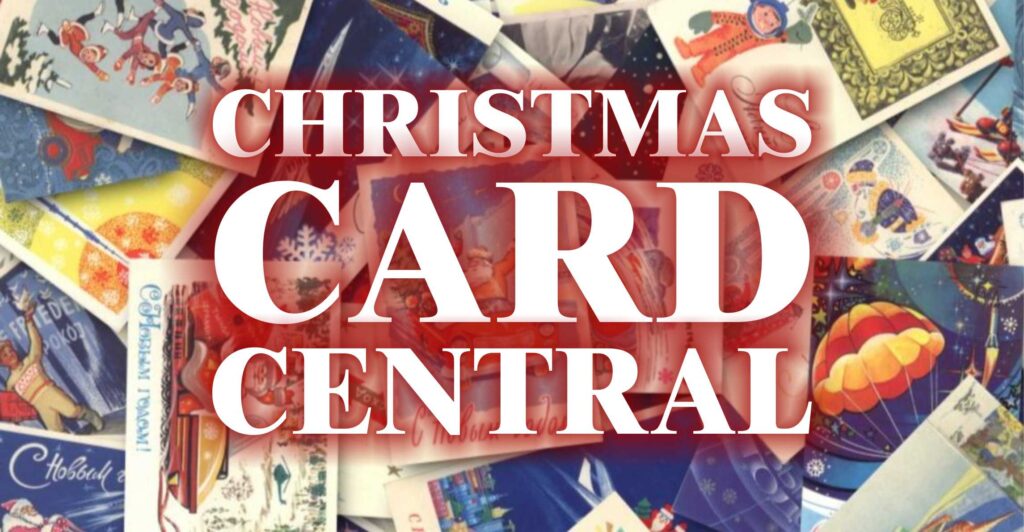 Once again, this year, you can bring your CHRISTMAS CARDS to Central and our POST OFFICE ELVES (the ladies of the TUESDAY BIBLE STUDY/PRAYER GROUP) will alphabetize them for pick up. Any donations would be appreciated. Tables will be up in the back hall behind the Sanctuary, beginning November 29th.

The Alley Theatre presents, "A CHRISTMAS CAROL"
A new tradition at THE ALLEY, A CHRISTMAS CAROL will return every other season. This adaptation by Rick Vale, with original music by him as well, is directed by Jill O'Malia (making her ALLEY THEATRE directorial debut). The classic story of Ebenezer Scrooge and his "night of the three spirits" comes to life, in-the-round, for audiences of all ages. Please note date and time adjustments on this production (opening on Wednesday and 2 performances on Saturday) to accommodate holiday audiences.
THE CAST
Dickens/Charity Solicitor/Joe – Dr. JAY WILE
Ebenezer Scrooge – RICK VALE
Bob Cratchit/Fezziwig – JOSH WILKINSON
Marley & All Spirits – SUSAN SMITH
Fred/Undertaker – SAM LYNCH
Young Ebenezer/Party Guest – BLAKE THOMAS
Young Marley – BLAKE THOMAS
Tiny Tim/Sleigh Boy – HARPER BARRANCO
Boy Ebenezer/Peter Cratchit/Urchin – HUDSON SEAL
Younger Ebenezer/Londoner – RAYMOND KESTER
Belle/Abigail/Charity Solicitor – SAHARA McINTIRE
Mrs. Cratchit/Mrs. Fezziwig – GRETCHEN STAPLETON
The Laundress/Nun – CYN SKIPPER
The Charwoman/Party Guest – CHERYL PASQUALE
Belinda – MATTIE CANTRELL
Fan/Urchin – ROSY BLACK
Lucy/Urchin – ROSEMARY BLACK
Party Guest/Urchin – EMILY VANNESS
Scrooge's Maid/Party Guest – ALLISON CAGE
Scrooge's Footman – ELMORE HAMMES
Flora/Martha Cratchit – JESS ANDERSON
Fauna/Party Guest – KATY DAY
The Priest – JIM HUNTER
Urchin – ZAIDEN STAPLETON
Urchin – PAUL BLACK
Londoner – MARTIN STAPLETON
Londoner/Party Guest – SUSAN VANNESS
Party Guest/Joe's Parlor – JENNIFER SCHUG BLACK
CHRISTMAS EVE is a Sunday this year, which makes it the FOURTH SUNDAY of ADVENT.
We will have our regular SUNDAY MORNING WORSHIP at 10:00am in the Sanctuary and on YouTube. At 7:00pm we will celebrate with a service of LESSONS & CAROLS, and our YouTube presentation will be "WATCHNIGHT" an original "worship of lessons and carols" with images and music written by Rick Vale. We hope you can experience with us all the beauty that is "CHRISTMAS AT CENTRAL".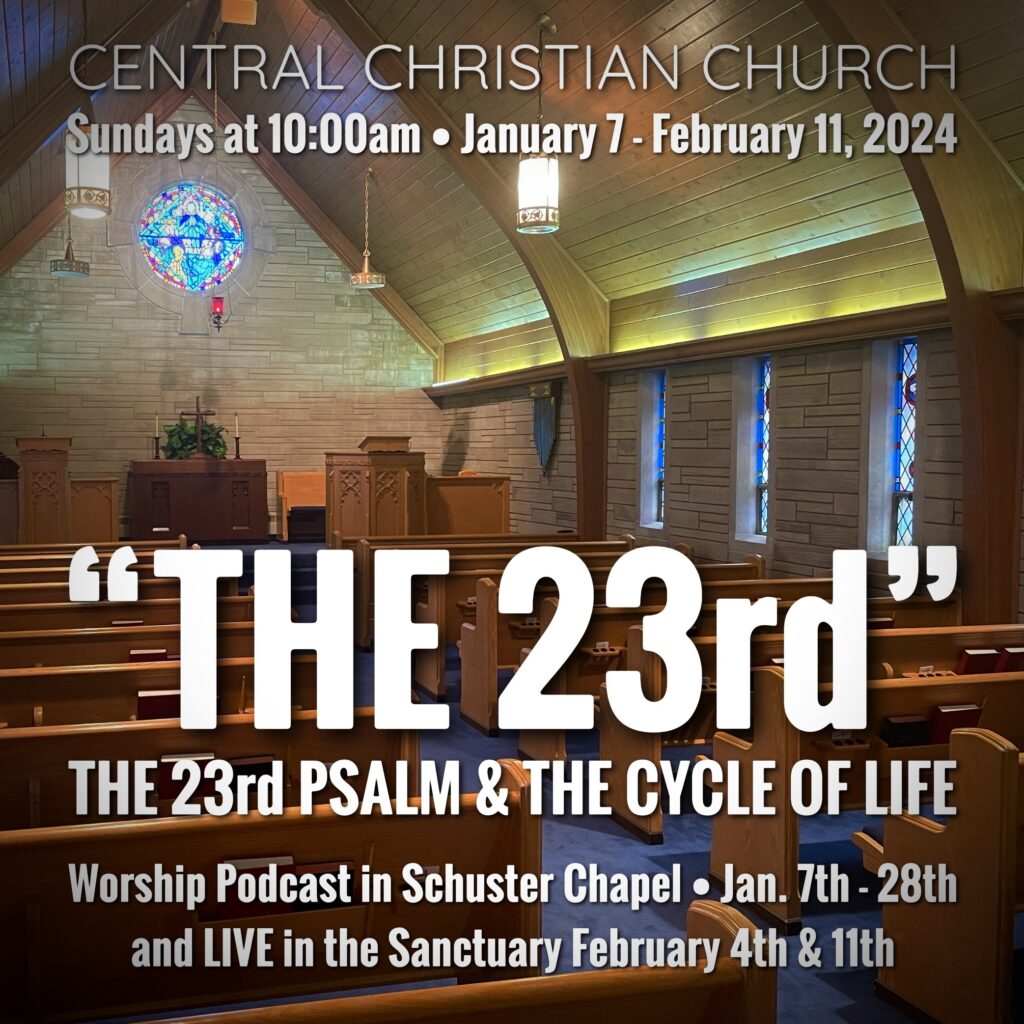 This January (and finishing in February) Pastor Rick will lead a series, in a Worship Podcast, entitled "THE 23rd". This series takes us through the classic scripture, THE 23rd PSALM – as a cycle of LIFE, not an "end-of-life" funeral scripture. We see the life of the SHEPHERD (Jesus) and the SHEEP (us) in this series…looking in depth at the familiar Psalm.
Join us in SCHUSTER CHAPEL for the first 4 in the series. Pastor Rick's podcasts will be played on the large-screen TV in the Chapel. You will also be able to receive communion, and an Elder will host. The final lessons in the series will be live and back in the Sanctuary with Pastor Rick, on Sunday February 4th & 11th (along with the Podcast) at 10:00am. During the month of January Pastor Rick will be working daily from Florida, where he will still be available by email, text and phone most days. He will be back "live" in the pulpit February 4th.