---
A CHRISTMAS CARD TO REMEMBER by Pastor Ken Rickett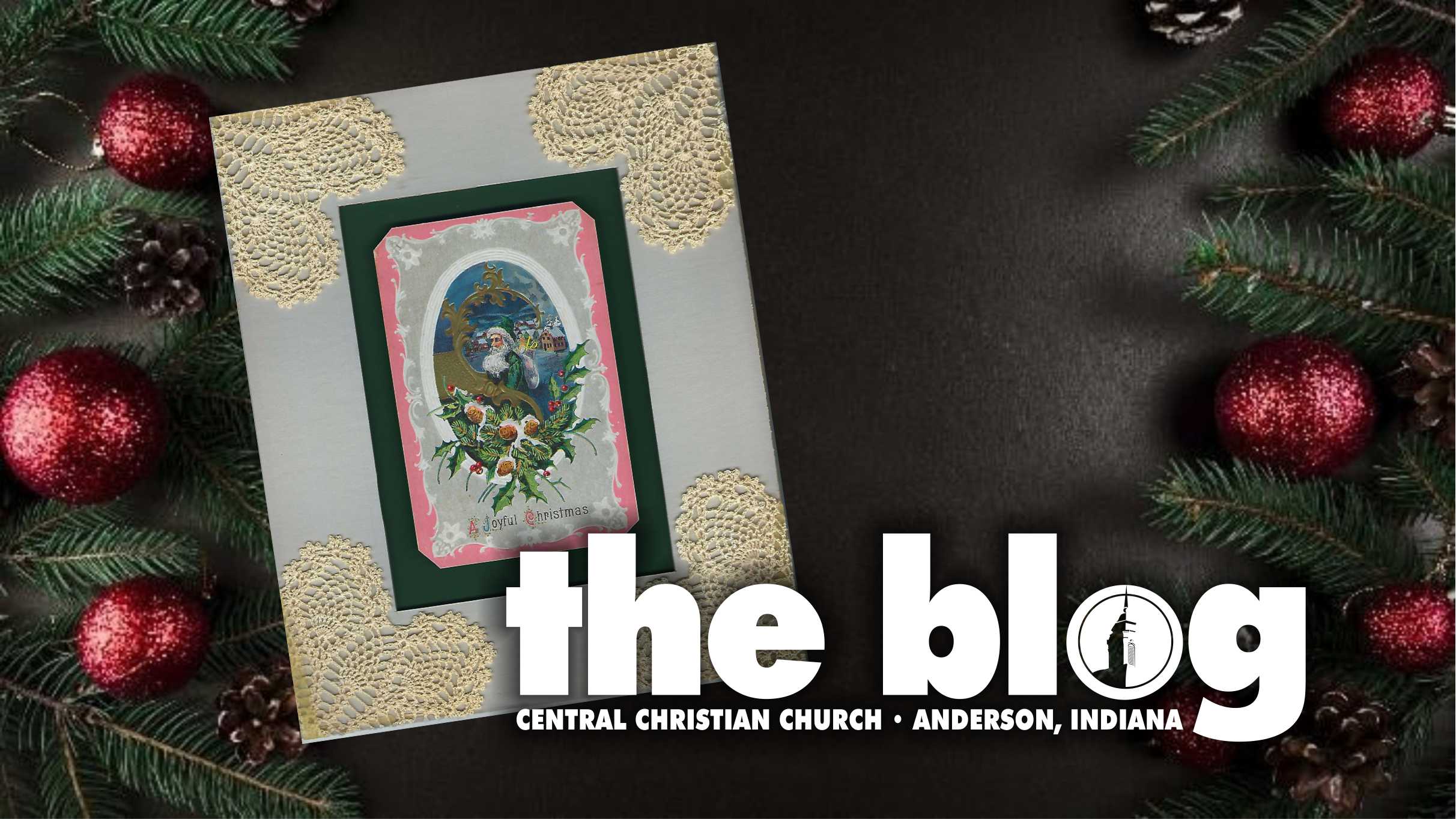 As a growing lad, I enjoyed going to the mailbox on our rural route, especially just before Christmas. Why? I was the first to see the Christmas cards that were delivered by the postman. From the return address in the upper left corner, I could eagerly announce, upon entering the house, who had sent a card to us! I didn't dare open any card unless it was specifically addressed to me; the honor of opening the cards belonged to my grandmother who opened them in her slow, methodical manner while the family waited patiently. Then she would read any handwritten notes in the card for the whole family to hear. 
To this day Christmas cards hold a fascination for me, both in their colorful designs and messages: From manger scenes to singing angels, from wise men on camels to shepherds resting in the field, from "city sidewalks" to idyllic farmhouses, from Santa Claus to flying sleighs led by reindeer, from Christmas trees to boughs of holly, from cute animals to snowmen topped with a black hat, I am mesmerized by the uniqueness of the cards my family receive. Christmas cards play a major role in ushering in the delightful spirit of the season along with hearing carols sung by choirs and bells ringing! 
In 1997, 25 years ago, a member of the church staff gave me a colorfully wrapped gift. Filled with that mysterious expectation that surrounds gifts with unknown contents, I opened the package. Inside was a Christmas postcard enclosed in an 8 X 10 picture frame and the card was centered amid white and lace matting with a narrow green border. This was no ordinary Christmas postcard; in fact, it was an antique postcard with a picture of Santa Claus dressed in a green (not red!) suit. Holly with red berries were at the base of Santa's picture. The postmark cancellation of the stamp was dated December 13, 1913. Everywhere that I have lived, this photo is always visible all year; it is never put away until next Christmas. 
I did some research on the origin of Christmas cards. The first known Christmas card was sent in Europe in the year 1843, but it never became a custom. So, several decades flew by and in the 1890s the sending of Christmas cards became sporadic. After all, Christmas cards were not produced in bulk, and they were not items found in the stores. Of course, the tradition in those days was to send letters, not postcards, and in writing to family and friends far and these usually included best wishes for the holidays.
By 1910, three inventions were literally beginning to transform the world: namely, electricity, the automobile and the airplane. And there were simply too many families and friends for a person to send letters to all of them at Christmastime. So, the Christmas postcard began to gain traction as a marketable item, and some companies would print a few postcards, but it was not until 1915 that an industry began printing Christmas cards in mass production. In those days, I might add, it was common to find Santa Claus dressed in a blue, green, or red suit.
So, my gift of a Christmas postcard postmarked in 1913 is indeed a relic or prototype of a new era of the American Christmas experience. 
Today Christmas cards are mailed, or exchanged at churches and clubs, or even used as a "tag" or label on a gift! I have observed, whether Christmas cards are religious themed or merely "holiday" in
their messages, the basic form of the message is still a prayer. Imagine that! Here's some samples:
"Wishing you the joys of the season!"
"May peace and love fill your heart"
"May your Christmas be bright with God's love"
"May the holidays fill you with the delights of the season!"
"Warmest wishes for you and yours!"
And one of my favorites is a snowman skiing down a hill, and the card reads: "I'm flying by to wish you a Merry Christmas" which sums up our busyness at this time of the year and our hopes that folks can hear "as we fly by" our prayers for the wellbeing of all people!
MERRY CHRISTMAS AND HAPPY NEW YEAR!
Pastor Ken Rickett