---
BATHROOM MONSTERS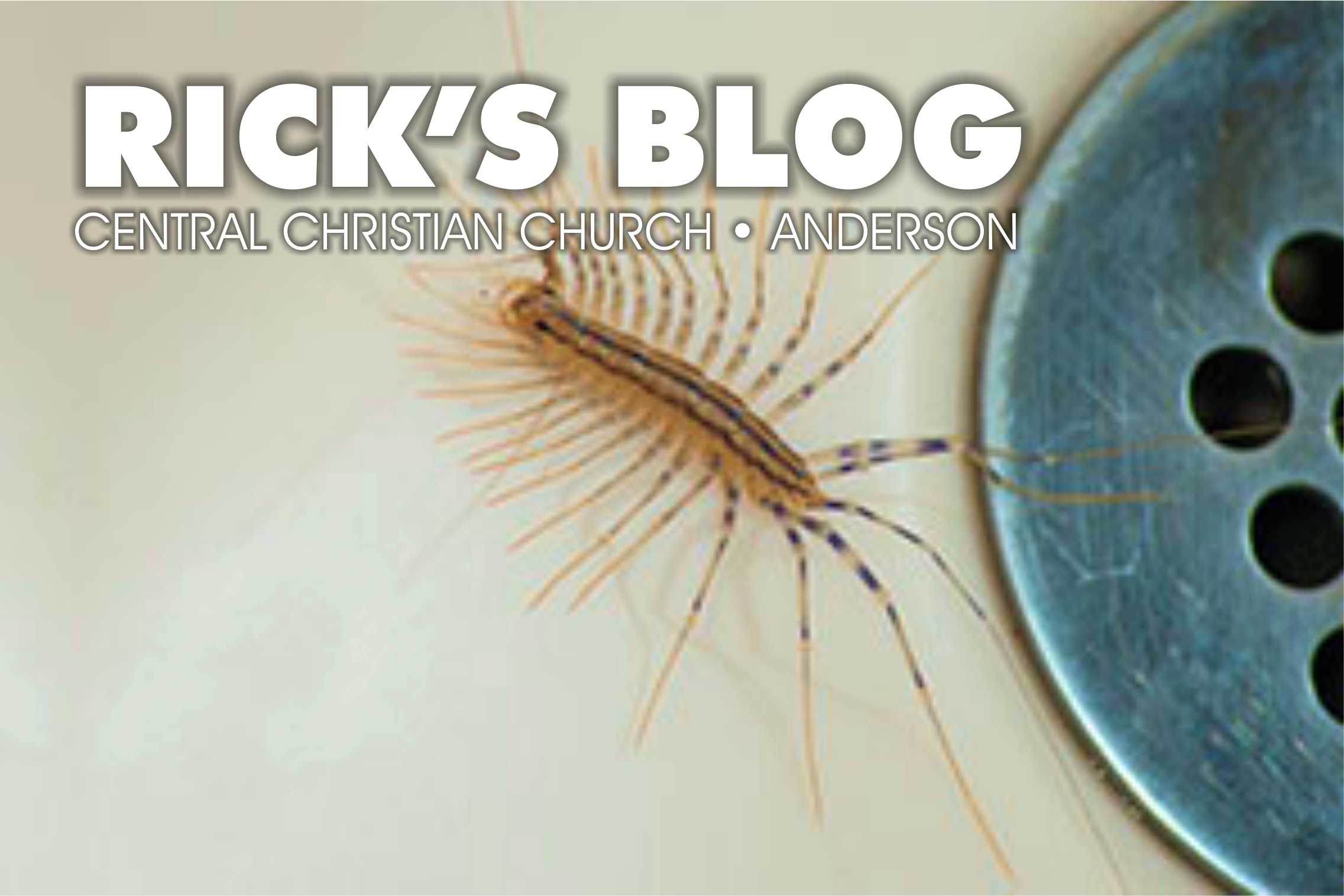 Every-once-in-a-morning I wake up to face a "Bathroom Monster" that may or may not have crawled up from the depths of my home to scare me in the shower.  This morning a big, brown centipede! 
For some reason, probably the time of year, these "monsters" only invade my bathroom.  The term "Bathroom Monsters" is one that one of my tenants in my Brown-Delaware house (which, as an 1890 Victorian, has its share of creepy-crawlies), used to describe them.
In the morning, especially since the eyes aren't what they used to be, I'm not at my best and my brain is still asleep.  My muscles and bones are just warming up.  So I like the first place I go to, from my bed, to be a place of comfort, warmth and security.  But I carefully open the shower door and look.  Today it was the centipede.  It seemed, at first, to be about 4 feet in length but as I looked closely I realized it was just about 3 inches long.  Of course, once I started swatting at it with the toilet brush it put all those feet to use and tried to escape fast enough to make me jump.  Then I was really after it…because the only thing worse than the Bathroom Monsters you can see are the ones that you CAN'T see.  Once the beast was totally, and completely, annihilated and spread in pieces from my zeal of destruction, I said to myself: this has GOT to be some kind of lesson for my BLOG.
And here it is. 
FEARS: many of our fears (or maybe I should just speak for myself) are either: blown out of proportion by our own active imaginations, things that haven't happened, OR things out of our control.
God's words and actions are very clear to us: "worry" is a killer, and there are many, many things that we need not waste our time worrying about.  "Worry" seems to be "imagination out of control."  We will play over scenarios that haven't happened yet, and may never happen.  We "imagine" the worst, in every scenario.
We also worry about events out of our control.  There are things that others have control over, AND EVERTHING is in God's control.  Even the worst that could happen to us is temporary at best, and many of the fears we have are unfounded.
Thinking on today – here is an event that is well within my control.  After all, this is MY bathroom, and I'm more scary to the largest spider and creepiest-looking earwig than they are to me.  (Yes I have cats that SHOULD be taking care of these issues, but they are actually more gifted at laying in the sun and curling up on the couch…They observe, but do not catch insects.)
Today's metaphor is a bit ridiculous, but still, how much time do we all spend "fearing" or "worrying" about things that I have power over; or even things that we DO have power over?  I'm convinced that one of the first things we will say to each other, as we stroll through one of the many beautiful parks in the Age-To-Come, is "Can you believe how much time we spent worrying?"
 It is said there are 365 "Fear Nots" in the Bible.  That's a nice thought, there are actually more "Fear Nots" than that from Genesis to Revelation – in many contexts.  God does not want us to fear anything but Him…and THAT fear is the "healthy fear" of knowing we are dealing with a destructive-but-good power way beyond ourselves.  And our God has the power to stand with us and help us conquer any REAL obstacles we fear.
"The Lord is my light and my salvation, whom then shall I fear?" PSALM 27

"Even though I walk through the Valley of the Shadow of Death,
I will fear no evil…"
PSALM 23
 "With humans it is impossible, but with God all things are possible."
MATTHEW 19 
"I am the Lord your God, who takes ahold of your right hand and says to you, '
Do not fear, I will help you'."
ISAIAH 41
 "For I am convinced that NOTHING can separate me
from the love of God which is in Jesus Christ our Lord."
ROMANS 8
…and another quote, not from the Bible, but from one of my favorite Presidents: because of God's love and care for us…"we have nothing to fear, but fear itself."
So go forth and CONQUER your own "Bathroom Monsters" – or REAL fear and worry, for that matter, through the strength and peace that comes from your Heavenly Father!